Pomysł powstał w związku z mniej używanymi ale ciekawymi bibliotekami lub poradami do pipa. Głównie po to aby o nich kiedyś nie zapomnieć i nie musieć szukać na nowo rozwiązań jeżeli nie będę ich za często używał.
Biblioteki
flake8-colors
Proste kolorowanie outputu z flake8 z lepszym wykazaniem w którym miejscu występuje błąd (włącznie z wykazaniem konkretnego miejsca w kodzie). Nic wyjątkowego jednak dochodzi do zestawu ulubionych paczek 🙂
Poniżej screen z outputu z i bez paczki:


Instalacja biblioteki:
pip install flake8-colors
pip_search
pip_search jest zamiennikiem dla standardowego wyszukiwania pipem. Wyświetla informacje o bibliotekach w interfejsie typu CUI (Character User Interface). Pozwala znaleźć biblioteki nawet w momencie kiedy standardowy pip ma z tym różne problemy np jeden z częściej pojawiających się:
ERROR: XMLRPC request failed [code: -32500])
RuntimeError: PyPI's XMLRPC API is currently disabled due to unmanageable load and will be deprecated in the near future. See https://status.python.org/ for more information.
W tym przypadku można użyć pip_search i spokojnie znaleźć interesujące nas biblioteki wydając po prostu polecenie:
pip_search szukany_tekst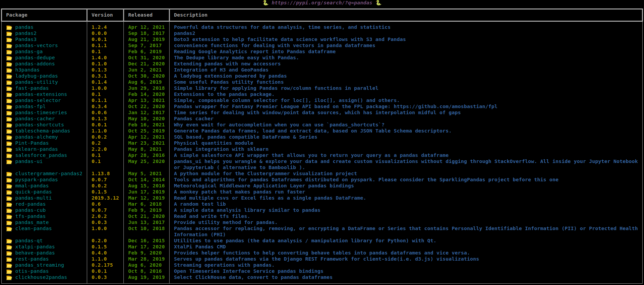 Instalacja biblioteki:
pip install pip_search
Repozytorium: https://github.com/victorgarric/pip_search
SpeedTest.net CLI (speedtest)
Do czego służy speedtest.net chyba nie trzeba opisywać. Jednakże możliwość pomiaru prędkości w konsoli otwiera nowsze możliwości (a przynajmniej pozwala przetestować prędkość łącza kiedy nie mamy graficznego interfejsu).
Aby sprawdzić prędkość łącza wystarczy zainstalować bibliotekę i uruchomić polecenie:
speedtest

Instalacja biblioteki:
pip install speedtest-cli